Norwich Evening News
Special tribute to Led Zeppelin at Norfolk pub
DAVID BALE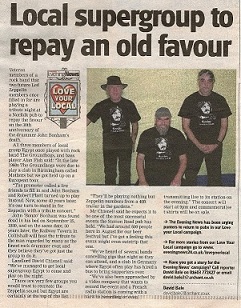 Veteran members of a rock band that two future Led Zeppelin members once filled in for are playing a tribute night at a Norfolk pub to repay the favour on the 30th anniversary of the drummer John Bonham's death.
All three members of local group Egypt once played with rock band The Groundhogs, and bass player Alan Fish said: "In the late 1960s the Groundhogs were due to play a club in Birmingham called Mothers but we got held up on a European tour.
"The promoter called a few friends to fill in and John Bonham and Robert Plant turned up to play instead. Now, some 40 years later, it's our turn to stand in for Zeppelin with a tribute concert." John 'Bonzo' Bonham was found dead in his bed on September 25, 1980, and on the same date, 30 years later, the Railway Tavern in Coltishall will host the tribute to the man regarded by many as the finest rock drummer ever, and they believe they've got just the group to do it.
Landlord David Chisnell said: "We've managed to get local supergroup Egypt to come and play on the night. "There are very few groups you would trust to recreate the Zeppelin sound but Egypt are certainly at the top of the list. "They'll be playing nothing but Zeppelin numbers from a 40-foot trailer in the gardens."
Mr Chisnell said he expects it to be one of the most successful events the Station Road pub has held. "We had around 600 people here in August for our beer festival but I've got a feeling this event might even outstrip that one.
"We've heard of several bands cancelling gigs that night so they can attend, and a club in Germany where Egypt often play has hired a bus to bring supporters over. "We've also been approached by a video company that wants to record the event and a French radio station is coming with a view to recording or even transmitting live to its station on the evening."
The concert will start at 9pm and commemorative t-shirts will be on sale.