History (The long and confusing version)
For the short version click on to
Band info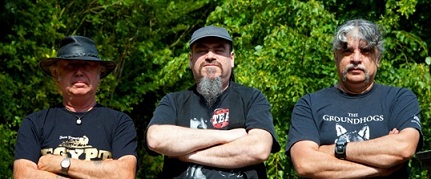 Current band-members (since 1991)
Alan Fish - Bass/Vocals
Eric Chipulina - Guitar/Vocals
Peter Correa - Drums
Egypt's original line-up first got together in a squat in Shepherds Bush, London in late 1987, but the story really begins a few weeks before when ex-Groundhogs bass player Alan Fish and ex-Jethro Tull drummer Clive Bunker were asked to record the very first album release (literally serial number 001) for the then fledgling record label HTD Records. HTD are now Talking Elephant Records who are primarily a re-issue label specialising in music from the 70's, such as Wishbone Ash, Fairport Convention, etc. Also included was guitarist Don Greer (ex-Bachman Turner Overdrive and others).
This initial plan got as far as some recording sessions (unreleased) before the band split, Don moving back home to the States, though he would later fill in for a broken-thumbed Eric Chipulina whilst Egypt were in the US for a short while in the early 90s. Alan was determined to carry on but was now on his own with recording and gig commitments to fulfil. Having difficulty finding the right musicians he began looking for a suitable ready-made band instead and met the first Egypt drummer Peter Chichon at one of these auditions. Peter was also there to audition but opted to pitch in with Alan instead.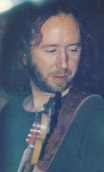 Alan Fish started off his musical career (as guitarist initially) playing skiffle at the age of 12. As a teenager during the 60s he had been in bands in the far east supporting The Who, The Stones, The Beatles, The Kinks and other names of the era before relocating to the UK where he was again, during the 60s/70s, supporting many name acts including David Bowie and had played since the mid-seventies with the legendary Tony T S McPhee in The Groundhogs, Terraplane, and Tony McPhee's Turbo, recording several albums. In the 80s he joined Tredegar (with ex-Budgie drummer & guitarist Ray Philips and Tony Bourge) and was involved in many other projects including a European tour with Chuck Berry and a couple of albums with ex-Bo Diddley harp player Billy Boy Arnold. Before forming Egypt he had recently left his bass playing job with bike rally favourites Dumpys Rusty Nuts. His entire CV is too long to include here.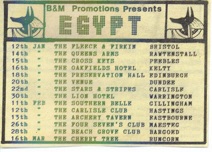 Egypt's original drummer Peter Chichon had recently been drumming for infamous London trash/glam rockers The Gunslingers and had already played in several bands with guitarist Eric Chipulina, who joined up after playing the Benny Hill theme tune (!?) at an impromptu audition at the aforementioned Shepherds Bush squat. Eric had until that time been gigging around London with Periphery (with Bill Kruse and Francis Pecino). Finally, on vocals came in Ryka who had previously been in Shattered (with Peter Chichon) & Valhalla (UK). This line-up barely stuck together long enough to record the first album, produced by NWOBHM pioneer Paul Samson (RIP) in 1988 and do a couple of brief UK tours of mostly smaller hall and club venues.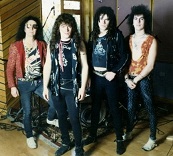 The music at this point was very different to the blues-rock style that developed later on. There was a recording and gigging schedule to keep within weeks of forming which saw some studio work begin even before a singer had been found or the band had been named. Material for both studio and live performances was hurriedly written and sourced from different genres, past projects, etc and the result was an eclectic mixture of thrash metal and older metal styles along with several other things including 70s pop rock and North African and Andalusian influences, hence the name Egypt. It was suggested by HTD after hearing Find A Way, a track with a somewhat Egyptian sounding riff which featured on the first album. With HTD literally waiting for a name to put on the cover so they could go ahead with artwork and release (and with the pub about to open any minute) the name was adopted despite doubts about it as no one could think of anything else in the time available.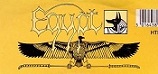 The first album was released in 1988 getting plenty of airplay on national radio (Radio One Rock Show, featured album on Radio Caroline, etc), an airing on UK national television (a late night 'jukebox jury' type show on ITV) and press coverage nationwide. However there was a problem with distribution (by EMI subsidiary Supertrack) and by the time the album reached the shops the moment had gone. After so much money and effort had been spent and with HTD nearly sunk almost before it had even started, and therefore unable to carry on the momentum, there seemed to be nowhere to go and the band gradually began to fall apart. The first to leave was Ryka, who went on to record a solo album project with songwriting duo Nick Jefferson and Alistar Nicholson in a project called Sine on Minority One Records. Next to leave was Peter Chichon, who later found cult success in the UK and worldwide with the excellent Breed 77. Ironically a badly edited bootleg of the album made an appearance soon after and was apparently selling well.
The first year or so immediately following the split is a blur of drummers and vocalists, many of them musician friends from the past helping to keep things going. For a while on rhythm/2nd guitar was sound engineer/road manager Dick Wilson who had been involved with Egypt from day one. Alan and Eric took over on vocal duties and played blues and rock'n'roll numbers, many of which Alan knew from his days with Chuck Berry. Despite the lack of any backing and general apathy from record companies, agencies, etc, the band managed to keep on gigging, sometimes under different names, while deciding whether to continue using the name Egypt, as the style & line-up had changed significantly from what it had originally been. In time Eric took over more on vocals, becoming the main vocalist. This was the beginning of the transition to the current version of Egypt, in that the circumstances forced a re-invention as a more back-to-the-roots blues/rock three piece, which gradually evolved to include a more progressive blues side and a delta blues side alongside the rockers.
One thing that very much re-enforced this direction was joining (or in Alan's case re-joining) legendary progressive blues outfit The Groundhogs circa 89 when Tony McPhee needed a backing band for a gig in Liverpool and asked his old bass player Alan if he could 'borrow' his band for the night. Eventually Egypt members were to form part of various versions of the 'Hogs for the next ten years or so. By this time there had finally been found a regular drummer in Chris Bennett (previously with original Iron Maiden vocalist Paul Dianno). All three went into The Groundhogs and continued gigging as Egypt as well (including a few weeks gigs and TV appearance in the Emirates) until some time in 91 when Chris left. More drumming friends again helped to keep Egypt going until the summer of that year.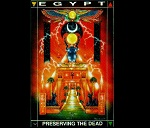 In mid 91 Peter Correa who had already played in bands with Eric in the dim and distant past decided to uproot from his (and Eric's) native Gibraltar and take the plunge with Egypt. This is probably where the band in its current form started, recording Preserving The Dead in 94 for a now fast recovering but much slimmed down HTD Records. This is the CD that most of the original stuff played live over the next few years came from and the first to be representative of the current bluesier style.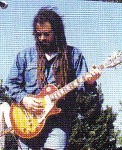 It would have been around 92 or 93 that all three, one by one, joined/rejoined The Groundhogs, gigging in Italy, Germany, Switzerland and elsewhere in Europe apart from the regular UK circuit. They can be heard backing Tony McPhee on the Groundhogs album Lost Tapes II, recorded live in Milan in June 94 although it was not released (as the name suggests) until several years later. Again both bands were on the go at the same time and several occasions saw Egypt doing an opening set at a Groundhogs gig.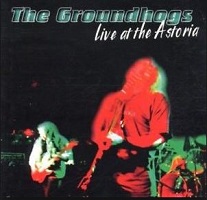 Around 96 Alan left The Groundhogs and Eric switched over to bass (initially for a couple of German gigs but in fact for about 3 years) recording the CD Hogs In Wolf's Clothing (all Howling Wolf numbers) and a video Live from The Astoria London both in 98, and another CD The Muddy Waters Songbook in 99. Towards the end of 99 Eric and Peter left The Groundhogs to concentrate more on Egypt, which had been pushed aside to a certain extent.
With the decision made to focus efforts on Egypt again, things slowly but steadily began to progress over the next few years. In early 2003 Alan went to Spain for a few months to work with ex-Uriah Heep keyboard player Ken Hensley and ex-members of Wings and AC/DC. Soon after this a long overdue new CD Midnight Sun was recorded at Purple Studios in Norwich and released mid 2004 on Blues Matters Records. In 2010 there was the re-release of the albums Preserving the Dead and Midnight Sun and the recording and release of a new album Blues Kerosene, & an album Live in Jena recorded live in Germany was released in 2013, all on Stable Records.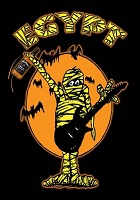 It is now (2018) coming up to 31 years on the road & 27 with the current line-up. From the very beginning, Egypt has built up a reputation as a hard working live band and have never stopped gigging for more than a few weeks at a time since then. There are no plans to change this in the near future. Gigs are constantly being booked throughout the UK and abroad with gigs in France, Germany, Spain, Netherlands, Scandinavia, The Balkans and other places with more planned for the future.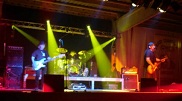 ...as for a rumour going round that Alan played for Led Zeppelin, he actually played "for them" when he did a gig with Chuck Berry and Zep members were in the audience.......
To be continued...........